Home
Our Dermatology Online, e-ISSN: 2081-9390
---
Current Selected Articles
Original Article
Chakiri Radia, Gallouj Salim, Inani Kawtar, Mernissi Fatima Zahra, Harmouch Taoufiq
Conclusion: All our patients evolved well under topical corticosteroids of very strong class, even with extensive lesions, so suggesting their first-line use, avoiding the recourse to the oral corticotherapy.
Original Article
Bibush Amatya
Conclusion: The proper diagnosis of these conditions can be aided by the use of an algorithm. A host of topical and systemic agents with variable efficacy have been used in the treatment of these conditions. No randomized controlled trials have been done till date assessing the efficacy of these agents. The isolated case reports that have assessed the use of narrow band ultraviolet therapy and topical tacrolimus ointment have shown promising results. Larger scale controlled trials are recommended to truly assess the efficacy and safety of these agents in the treatment of these hyperpigmentary disorders.
Brief Report
Uwe Wollina
Conclusion: Halo-like features may occur around benign melanocytic nevi. They have different etiologies. Dermatologists should be familiar with these lesions and their melanoma mimics.
Case Report
María Lorena Re Domínguez, Evelín Magalí Cuevas Jara, Guadalupe Barboza, Beatriz Di Martino Ortiz, Mirtha Rodríguez Masi, Oilda Knopfelmacher Domínguez, Lourdes Bolla de Lezcano
We present two cases of immunocompromised patients with perianal herpetic ulcers, one HIV carrier, and the other with leukopenia caused by visceral Leishmaniasis.
---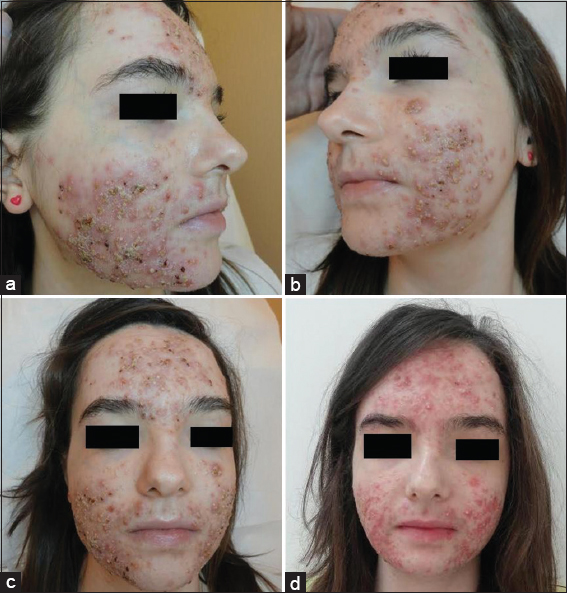 Case Report
Magdalena Kręgiel, Anna Żuchowska, Katarzyna Tomaszewska, Agnieszka Wojciechowska, Ania Jędrowiak, Katarzyna Tabara, Wojciech Bienias, Joanna Krzysiek, Andrzej Kaszuba, Ewa Trznadel-Grodzka
We present 2 cases of patients suffering from acne fulminans in the course of treatment with oral isotretinoin. Acne fulminans is a very severe systemic disease and its course is difficult to foresee. The most important is rapid diagnosis and implementation of treatment. Systemic corticosteroids combined with isotretinoin or high doses of antibiotics are the most effective. The alternative methods are dapsone, infliximab.
---
Letter to the Editor
Mehmet Eren Yuksel, Funda Tamer
Giant skin tags have been reported on labium majus, penis and perineum previously. However, a 6×4×3 cm giant skin tag on the scrotal skin is the first case report in the English medical literature to the best of our knowledge. Moreover, the patient had both a giant skin tag and verruca anogenitalis on the scrotal skin. These findings support that HPV infection may play role in the etiology of skin tags.
---
The journal is funded by publisher by "Our Dermatology Online"
This work is licensed under a Creative Commons Attribution 3.0 License
---
This internet health service provides full security of data on individual patients and other persons that benefit from it, including their personal data.